/// Mortisle Elytrion [Ichtyor Tides]
_release date : 7/30/2012
_format : CD-R (Digipack)
_running time : 50:54
_label reference : INV001
_artwork : g.cl4renko & n(cqls)²
_tracklist :
01. Insulffee
02. Wooise Perkage
03. PQRSux
04. Ventide
05. Soreilles Guines
06. BM
07. Acherno
08. Suaval
09. Drongle
10. Yole Exitoire
11. Exiphannist Plunge



_about :
On Mortisle Elytrion, their first LP to date,
Ichtyor Tides
refines their sound into explorations of the mighty structures of glitches, forged in acidified lakes of drones. This time, sharpen in the core of this barbed stream, an insidious spoken word poetry sometimes emerges. With its beats, its clicks, its glitches and its noises as such lethal metronomes of our daily routine, Mortisle Elytrion draws the shape of the industrial version of the Isle of the Dead (as a modern day Arnold Böcklin would picture it), that lies behind every factory, every office building, every urban structure that sucks you from your self-conscious being and draws you into a mechanical hell of boredom, despair and resignation. Face it : you are working for your death, while you should live for nothing instead.
Comes with an exclusive cover art from
g.cl4renko
.
Sur Mortisle Elytrion, leur premier LP à ce jour, Ichtyor Tides raffinent leur son en explorant les imposantes structures des glitches, forgées dans des lacs acidifiés de drones. Aiguisé au coeur de ce déluge barbelé, un insidieux spoken word poétique affleure parfois. Avec ses beats, ses clics, ses glitches et ses bruits comme autant de métronomes létaux de notre routine quotidienne, Mortisle Elytrion esquisse la version industrielle de l'Ile des Morts (comme un Arnold Böcklin vivant de nos jours l'aurait représentée) qui se cache derrière chaque usine, chaque immeuble de bureaux, chaque structure urbaine qui vous soustrait à votre être conscient et autonome et vous livre à un enfer mécanique d'ennui, de désespoir et de résignation. Admettez-le : vous travaillez à votre mort, au lieu de vivre pour rien.
Avec une illustration de couverture exclusive de g.cl4renko.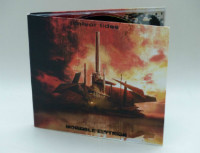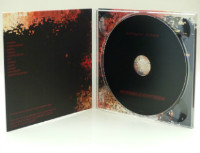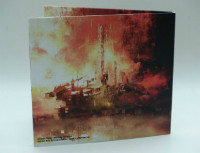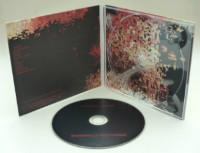 _press :
"Ichtyor Tides nous impose une ambiance urbaine, futuriste et contaminée. [...] Bien que narrative, la musique d'Ichtyor Tides est accompagnée d'une poésie tantôt descriptive, tantôt symbolique. [...] L'EP Oodrownesis, sorti au printemps 2011 explorait les possibilités du bruit blanc, une toute autre direction que Mortisle Elytrion. Le poète n'utilise pas que le glitch mais une quantité d'armes sonores pour créer son paysage apocalyptique : du drone, de l'ambient, de l'indus, des bruits bruts... [...]"
(
New Noise #13
, 11/27/2012)
"Nikola Akileus ne nous est pas inconnu : présent dans les Éditions Caméras Animales, il offre ici un disque mutantiste sous le nom d'Ichtyor Tides. [...] Le contenu est noir. Très ; quelque part il rejoint le cri bouche fermée d'un Serge Teyssot-Gay reprenant Georges Hyvernaud. Dans Ichtyor Tides, rien n'est fait pour danser. Les rythmes répétés (« BM »), un temps groovy (« PQRsux ») ne débouchent que sur les réflexes d'un corps agonisant. Lointains signes d'une vie créatrice masqués par les vents du drone (« Soreilles Guines ») ou occultée sous les saturations (« Acherno »). Étouffement progressif de la voix, psalmodiée pour feindre la vie. [...] Les parasites électroniques se lient avec des bruits d'animaux (« Wooise Perkage ») pour des ambiances de jungle post-exotiques. [...]"
(
Obsküre Mag #12
, 11/08/2012)
"Ichtyor Tides is a project steeped in the deeper histories of industrial, noise, and experimental music, and while its first LP combines elements of those in some new and stimulating fashions, its pairing of them with sole member Nikola Akileus' poetry is perhaps its most striking characteristic. [...] It's a perplexing and often inscrutable record which won't be to everyone's taste, perhaps resembling some portions of the Nurse With Wound catalog from time to time, but Mortisle Elytrion is a refreshing change from many of the conventions which have calcified around what were once far more experimental forms. [...] Where the listener chooses to place Mortisle Elytrion on the sliding scale found between the noise and industrial traditions will depend on individual histories with those genres, and how Ichtyor Tides break from the expectations which come with records tagged by both of those markers. There are enough musical ideas here to catch the fancy of open-minded fans of either genre, all directed by the focus of Akileus' words."
(
I Die: You Die
, 10/17/2012)
"A concert of machinery that sounds like they have come to life and about to escape into the wild world of ice-cold nature. [...] Electronic wind storms and a melancholic piece of drama that is guiding you from afar. Yet again I would like to notice that even the sounds are far from smooth, the experience is like listening to pure warmth. [...] The machines are taken over and completely absorb your body , soul and most of all your ears. [...] This is obviously a well-made and very listenable release that contains many elements without losing its own concept and style... Ambient, noise, minimal, soundscapes and spoken word are moulded in a perfect album that is unique to say the least."
(
Yeah I Know It Sucks
, 09/21/2012)
"Lors de mon codage, quelque chose a raté. [...] J'aime voir les gens inertes. Les choses inertes. Les vagues inertes. Je n'irai pas les déplier aujourd'hui. Car c'est ici que la beauté réside. Dans ces murs vivants de leur inaptitude à exister. Bien plus qu'un homme. [...] Ichtyor Tides est un projet français entre l'indus, le drone, l'ambient et la noise incorporant à sa musique de la poésie. Non seulement la musique, plutôt rythmique, est en elle-même intriguante et parfaite pour qui a une imagination digne de ce nom (!), mais les passages narrés de poésie urbaine sont tout simplement magnifiques. Entre haiku et désespoir scandé, IT dit se sentir proche d'Arnold Böcklin, à raison. Un travail sur la dystopie qui nous la montre sous un angle froid, dénu(d)é d'artifices, mais splendide en ceci qu'elle peut créer les pensées les plus vivantes."
(
Ambient Churches
, 08/22/2012)